As the winters are approaching, it has become important to save your beauty from being attacked by the effects of cold. One of the major issues that affect your beauty profile during winters is charred lips . Such lips not only interfere with your natural beauty but also cause pain. In this blog, we are about to present some of the major tips to save your lips from being charred.
AloeVera Gel
On account of its excellent antioxidant qualities, Aloe Vera helps in protecting your skin from damages including the ones caused by the winter season
Being an excellent source of moisture, Aloe Vera enhance the natural moisture levels of your lips
Directions to use
Take a long Aloe Vera Leaf and cur it sideways
Scoop out the gel with an appropriate serving spoon or other relevantly shaped devices
Take a good quantity of the gel and apply it on your lips. For the best results apply it in the night before you go to the bed. Allow it to stay overnight
Mixture of coconut oil and neem oil
Essential oils speed up the lip healing process by shielding it from further infection. Moreover, due to the presence of natural fatty acids, coconut lubricates your lips and keeps them from drying.
Directions of use
Take some coconut oil in a small bowl
Put a drop or two of neem oil into it
Mix it well and apply on the lips
For the best benefits apply it several times gently, in lengthwise direction
Green Tea
Green tea has a rich profile of tannins and antioxidants. It hydrates your lips and also gets you rid of the burning sensation and sharp pain.
Directions to use
Boil a cup of water
Take a Green tea bag and dip it in the water for 35-50 seconds
Take it out and gently apply to the lips making sure that it is properly absorbed. Continue for around 5 minutes.
Honey and Petroleum Jelly
Both Vaseline and Honey have potent qualities to lock in the moisture of your lips. They also help in making the lips softer to eliminate the possibilities of further drying. Moreover Honey also possesses antibacterial properties that protect your lips from infection.
Directions to use
Take some honey in a bowl
Apply it on your lips forming a fine layer
Take some Vaseline and carefully apply it on top of the honey layer
Allow it to stay for around 20 minutes
Take a damp, clean tissue and wipe it off
Ghee
Ghee is a natural nourishing agent for your dry lips as it possesses essential Omega 3 fatty acids. It helps in keeping the lips hydrated for long and deeply conditioning them that eventually heals the dry lips.
Directions to use
Before going to the bed, take a tablespoon of Ghee and apply it gently but thoroughly on your lips
Repeat the process to form 2-3 layers of Ghee for a better outcome
Allow it to stay on your lips overnight
Wash it off in the morning
Sugar scrub with Olive oil
Scrubbing sugar removes the flaky skin from your lips along with regulating blood circulation. Olive oil replenishes the moisture content of your lips. This mixture also reveals the natural color of your lips that was covered by flaky skin.
Directions to use
 Take a tablespoon of sugar and mix it with the olive oil
Make sure that the sugar doesn't get dissolved
Take the mixture and gently scrub your lips with this mixture. Extra caution is required especially if your lips' skin is lifted at several places
Take some warm water and scrub it off
Honey and Lemon
Lemon is enriched with bleaching properties while honey, as a natural moisturizes, saves your lips from dryness. Lemon also acts as a natural exfoliating for the skin and efficiently removes the skin flakes.
Directions to use
 Take some honey in a small bowl
Add a little lemon juice to it
Mix it well and apply on the lips
Allow it to stay for 10 minutes
Now rinse it well with warm water.
Other Tips: Do's and Dont's
Along with the above mentioned remedies you also have to keep in mind some vital tips to save your lips from being charred. Here are the key tips to follow: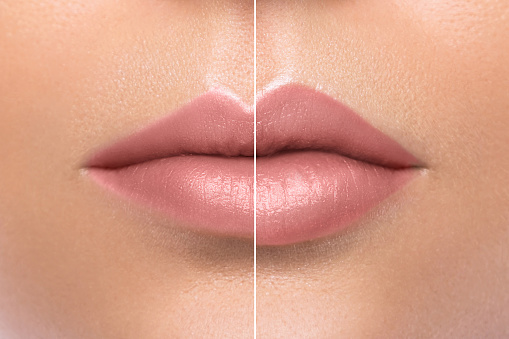 Never lick the charred lips
It is natural to be tempted to lick your charred lips as it offers the quick relief and instant moisture but did you know that it does more harm than good? Yes, that's right. Your lips have an oily surface cover to keep them moist enough to avoid cracking and external dryness. By licking lips, you destroy this moisture-protecting layer and as a result, your lips become dry and start cracking. By licking your saliva comes into direct contact with the lips that irritate lips due to the presence of digestive enzymes… So avoid licking lips if you don't want them to be charred or cracked.
Apply a friendly lip balm
Instead of licking, a better way to make your lips moist is to use lip balm. An ideal lip balm makes the skin's surface smoother and packs many lip-friendly properties. Moreover, it also keeps your lips moist for a long. Especially choose potions with petroleum and lanolin. One thing to remember here is that if you are suffering from a cold it is very important to rub some lip balm on your lips before you go to the bed. It is not uncommon to breathe through the mouth instead of the nose, and it can further dry the lips. With the lip balms applied, you would be able to retain maximum lip moisture and would be saved from dried and charred lips.
Take natural supplements
In some cases specific medicines may also cause lips to dry and get charred. In such cases, you may consider taking supplements like gamma-linoleic acid or evening primrose oil supplements.